I feel like it's not fair for me to keep all of these wonderful things I find all to myself! So on a regular basis, (I might even choose a day of the week!), I'm going to share some of my favorite new blogs or posts from my already well-loved blogs. My favorite one right now is
this
. The Pretty Organized Palace is one of the newest blogs I have found that I love. Ever since reading this post 2 days ago, that fairy has been saying, "touch it once," over and over in my head. You know what? It has worked! I'm not saying I'm a totally reformed woman who will never leave something out of place again. I'm just saying it has helped me (for 2 days at least) realize that is just not that hard to put something where it goes! For now, "touch it once," is my new mantra. Thanks Pretty Organizer!!!
Another blog that I love is
Balancing Beauty and Bedlam
. Jen has 5 kids and a husband - a family of 7. She has a $500/month grocery budget. She's awesome. She's great with coupons and freebies. What I really love, though, is how she "balances the mealtime mountain."
This
guest post she did on A Soft Place to Land was inspirational for me. I'm not great at meal planning. I'm not great at buying groceries for the week/s ahead of time. This wastes a lot of time and money. I'm taking baby steps here. What I plan to start doing is buy my meat in bulk and set aside intentional time to cook it and freeze it. Then, even if I haven't planned ahead well, I have meat already cooked and I can throw a decent meal together in very little time. I also plan to stock up on staples for the old standby dishes. Hopefully this can eliminate running to Wal-Mart at 4:30 in time to get dinner on the table!
One of the really crafty blogs I love to read is
Imperfectly Beautiful
. Maybe it's because her name is Amanda! While she does have a great name, she also has oodles of talent and creativity. Look at this
tutorial
. How fun and easy! I actually attempted this myself with a composition book I got at Dollar Tree. I happen to think this might just be the cutest scrapbook paper ever! Whadya think?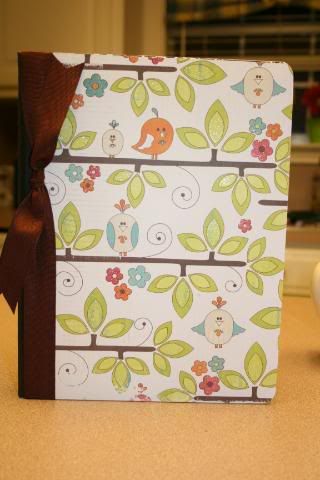 This is before I added the ribbon, but aren't the birdies so cute up close???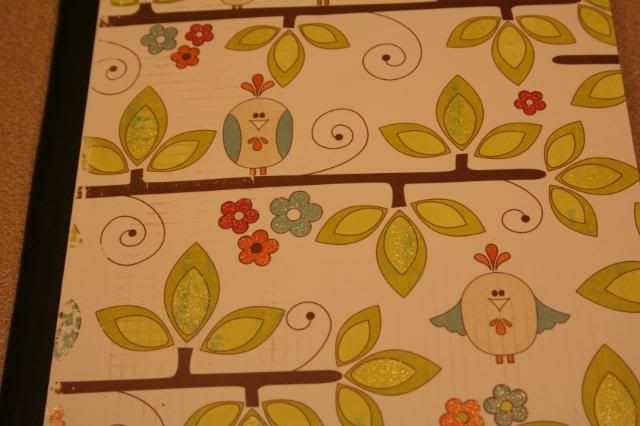 This is the inside of the cover. The paper was already made to look distressed like that. Too cute!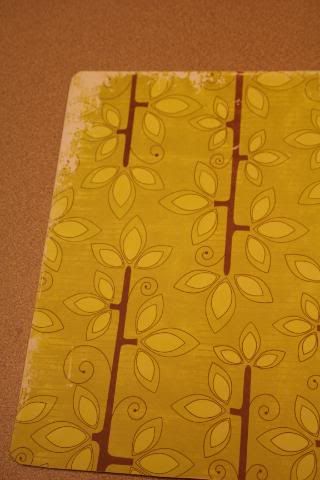 Enjoy browsing these great blogs - I know I sure do!