So it's been a year since we moved into this house. My decorating goals when we moved in were to do the main living area and our master bedroom first. I'm just now finishing up the master bedroom, but I am really loving it! It started out like this: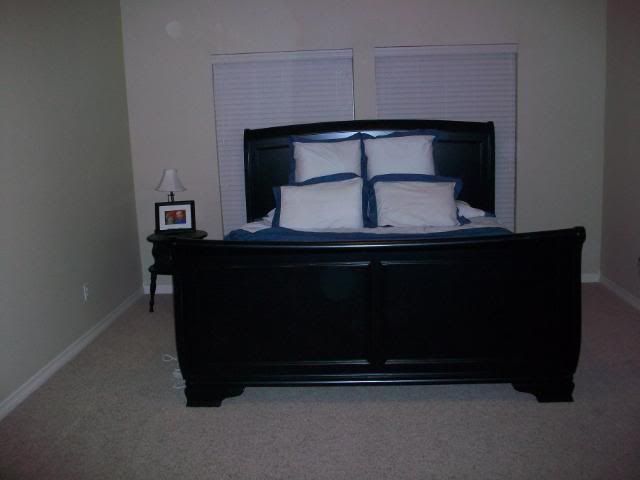 I really wanted to see the bed "front on" when I walked into the room. The only way to do that was to put it in front of the window. I also ordered this hotel bedding that my husband and I both loved. I thought this little nightstand would be cute, but it was way too small. I was definitely not loving it so far.
I thought I'd love it when I got the perfect nightstands and drapes.
So...this is what happened next: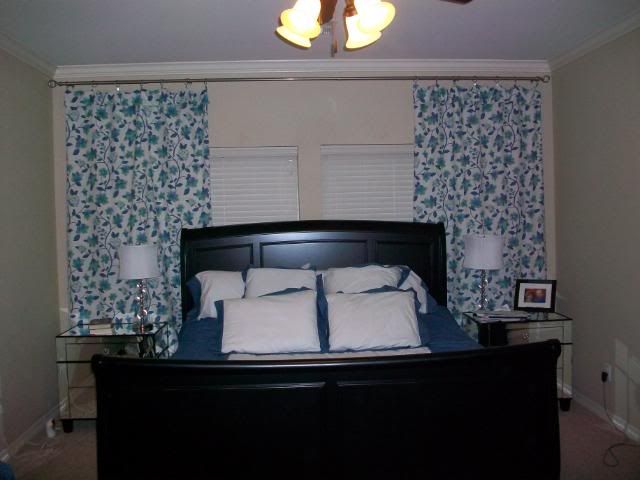 Still wasn't feeling it. I like to mix styles, but this just wasn't the right mix of styles. After getting advice from friends and designers, I decided the bedding just wasn't working for the bed. AND, I needed to move the bed away from the window.
I started looking for bedding sets that had some grey/silver in them to tie in the mirrored nightstands. As they were, they weren't working with the bed either. About 6 bedding sets lateer (bought and returned), I decided upon this one and I LOVE it!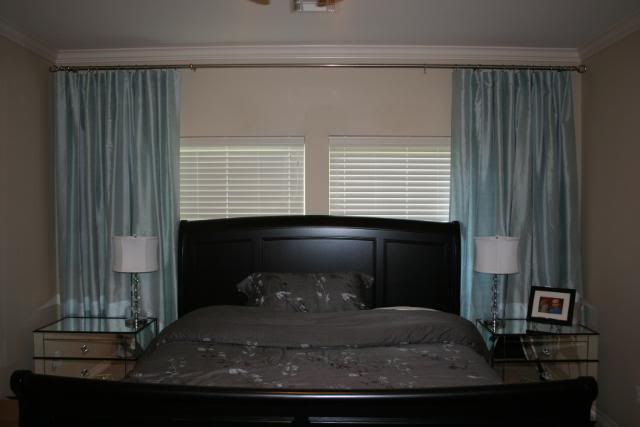 One of the colors in it is almost exactly the Glacier Blue by Pottery Barn. So I got these drapes to see if they looked good. I was in love!
The euro shams that I could order with the bedding set were the grey of the background on the comforter. I didn't want to go that dark, so I found these at Tuesday Morning.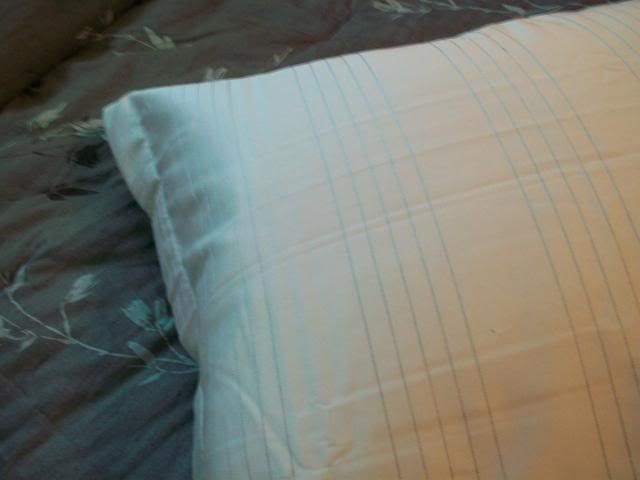 Next on the slate was paint. I got some foam board at Michaels and painted it a shade darker and a shade lighter than the curtain fabric. I set them around the room in different places to see how I liked them.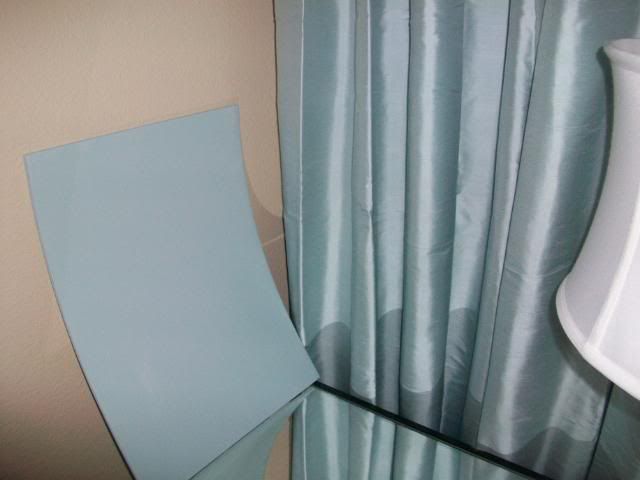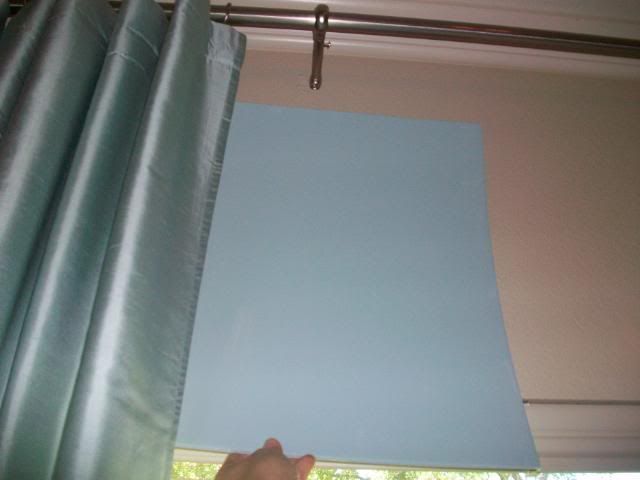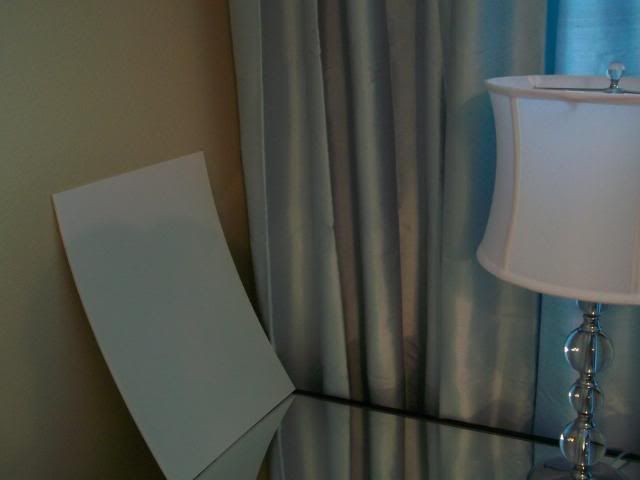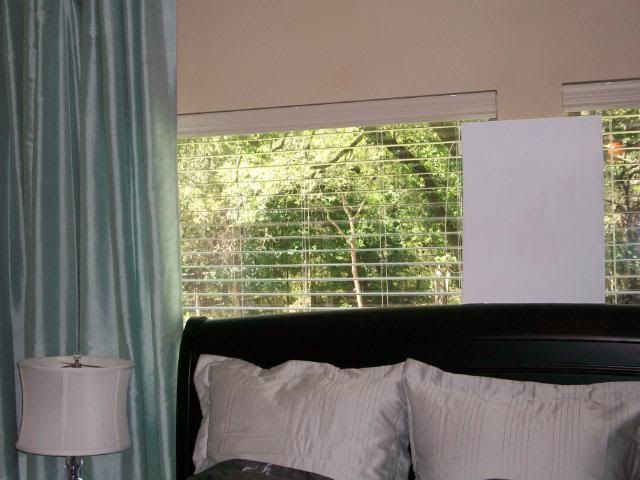 I decided that darker was too dark and the lighter was too light! I thought I'd just match the curtains exactly when it was time to paint.
The next thing we did was intstall the chandelier that I bought on Overstock. Thanks so much to our friend Quinton for helping my husband intall it!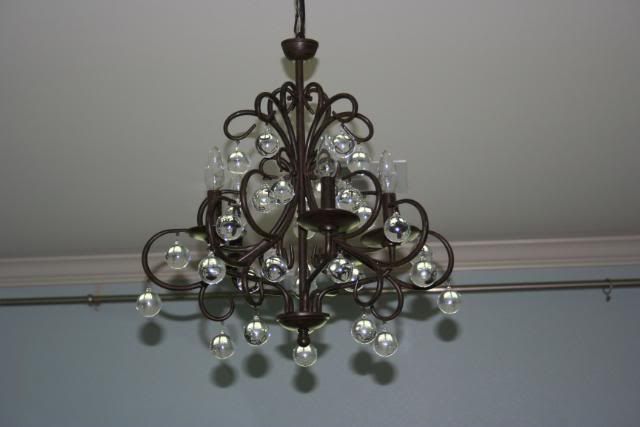 Now I bought this after searching Overstock for a long time. I loved that the drops were spherical and not teardrop crystals. After I bought it, I was searching the Pottery Barn website and found this:
http://www.potterybarn.com/products/bellora-chandelier/?pkey=cchandeliers
Wow!!! Let me tell you - it is about 3 times more expensive than the one I bought on Overstock!
Anyway, while our friend was here helping install the chandelier, we roped him into helping us move the bed, too. What a difference it made!!!
Now that I had all that done, I decided to start painting. I did a little bit of the room first, just to see if I liked it.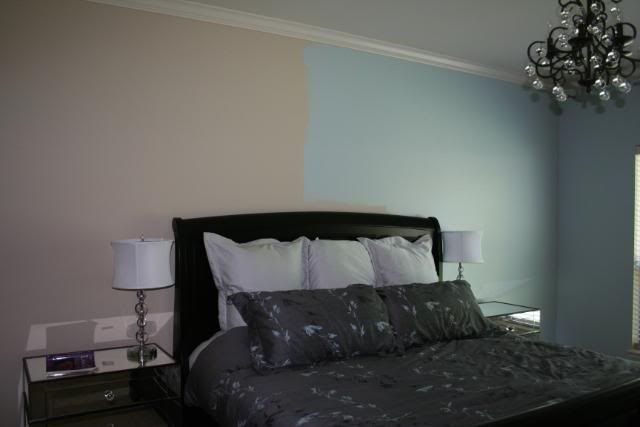 Raymond was not too fond of it. He said I painted our bedroom Baby Blue. It is not Baby Blue. It is "Tradewind." :-)
I love it!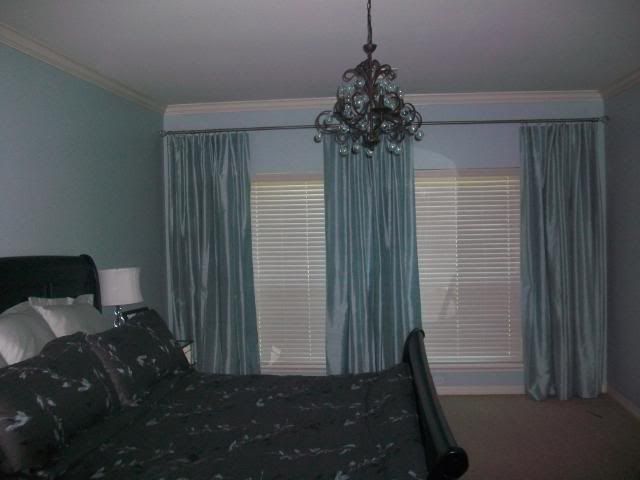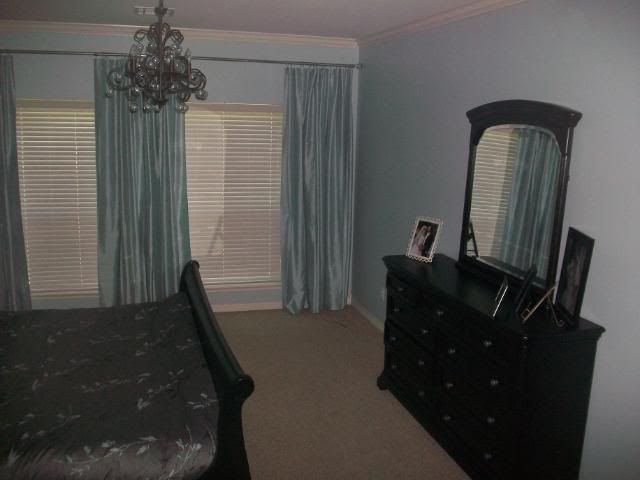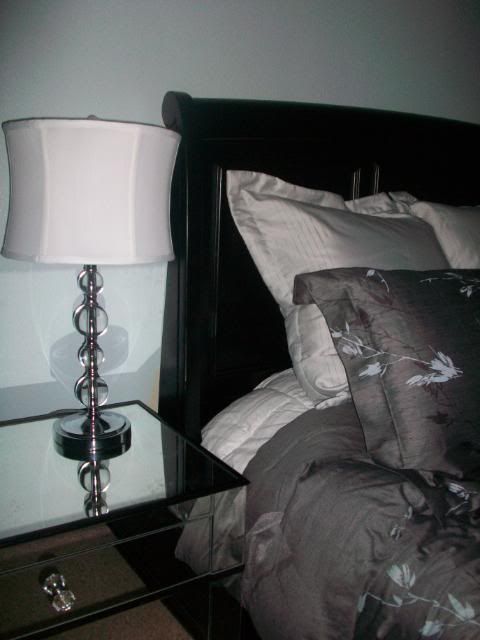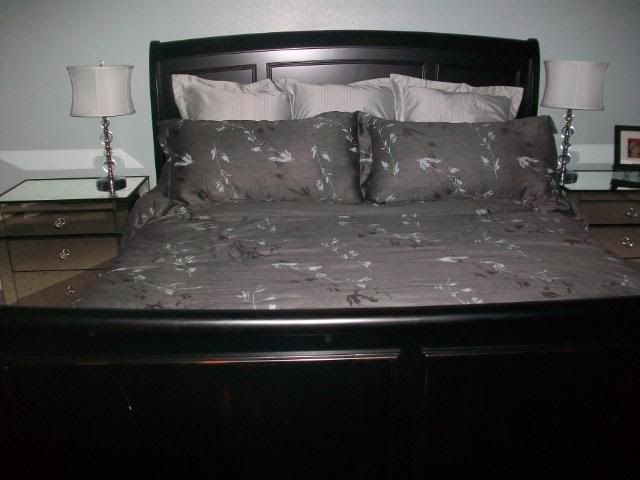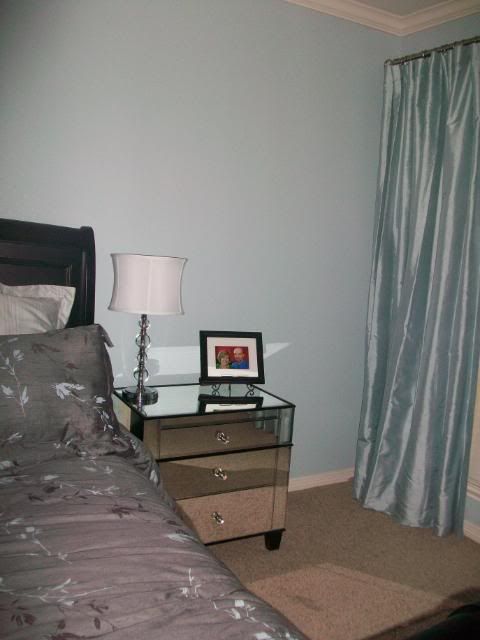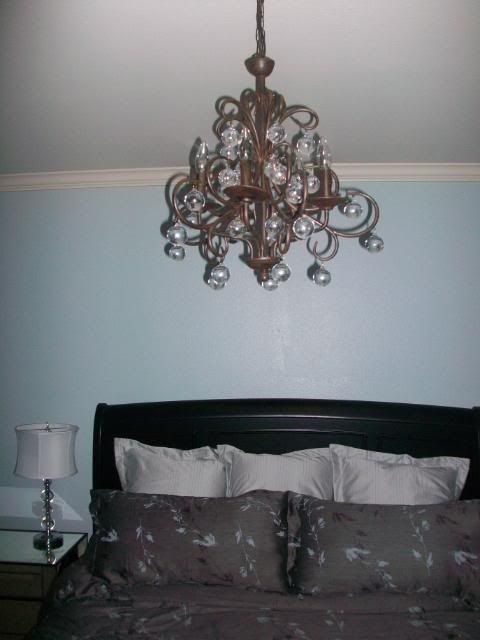 Next order of business - my lamps were too small. Found these at Homegoods. Oh my goodness, I love that store!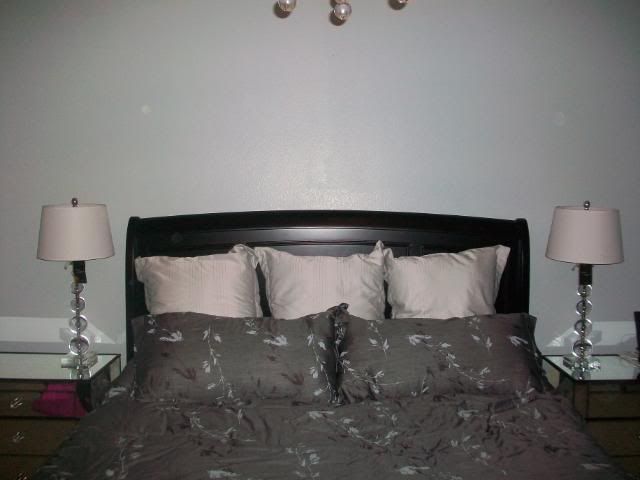 Yes, those are the tags - haven't cut them off yet. Had to be sure they worked first!
Then I needed some sort of seating in the open corner by the window. I found these at Homegoods, too and fell in love!!! Keep in mind - the table and lamp won't be staying. I just put them there to get an idea of an arrangement.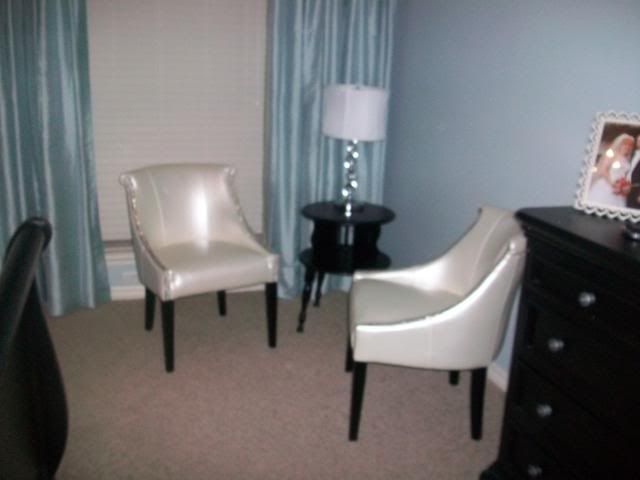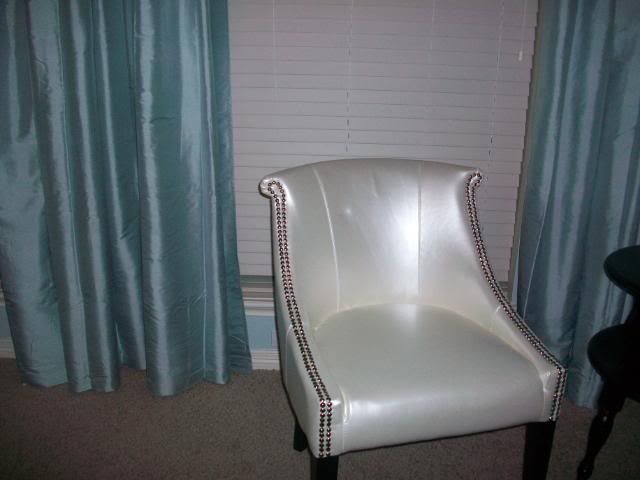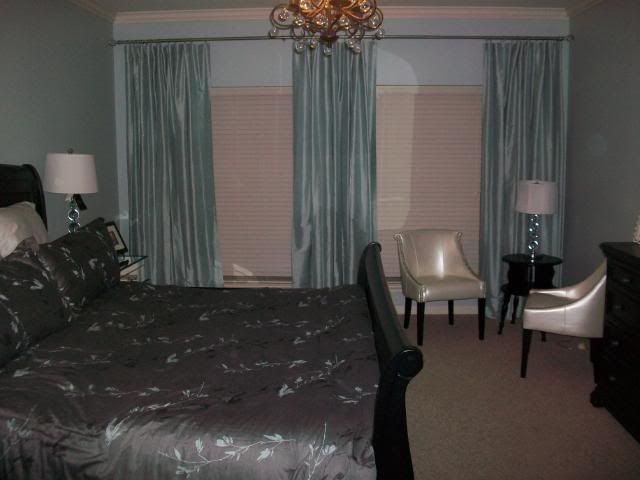 Now I just need to find all of the accessories and wall decor to add the finishing touches. I've been given a lot of great ideas, but I could always use more. Feel free to give me your opinions!